About the Director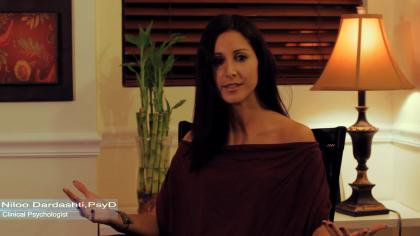 Dr. Niloo Dardashti is a psychologist, coach, and relationship expert. She is also Board Certified as a Holistic Health Practitioner, living and practicing in New York City. She earned her Bachelor's in Science from New York University in 2000 and received additional training in Mindfulness, Meditation, and Reiki before going to graduate school. In 2007, Niloo received her doctorate in Clinical Psychology from Long Island University, with training in Cognitive Behavioral, Psychodynamic, Couples, and Dialectical Behavior therapies.
After her graduate training, Niloo became certified in Herbology by the East West School of Herbology and obtained training in the use of nutrition and amino acids for mental health wellness and weight management. In her private practice, Niloo combines all of her training to provide coaching and therapy primarily with adults and couples, tailoring specific treatments based on the individual challenges of her clients. She is involved in various organizations and works with a network of professionals across the greater New York City metro area.
In the last couple years, Niloo noticed that many of her clients (mostly women) felt significantly impacted by the Twilight books and movies. She became fascinated by what they shared and decided it would be interesting to create a documentary on the cross-generational reaction of women to the Twilight saga. Over the last year, she produced and directed Into the Twilight Haze, in which the "Twilight Phenomenon" is explored on a deep psychological and emotional level.
In addition to her psychology practice, Niloo discovered a tremendous passion for filmmaking and would like to continue making psychological documentaries about pop culture phenomena. She is now in progress of starting a new documentary about the reaction to "Fifty Shades of Grey."